A limited number of outdoor seats are available to be reserved for the lighted-boat-parade viewing. 
Enjoy the lighted boat parade right on the water's edge without worrying about saving a spot ahead of time or having an obstructed view of the parade of lighted boats.
Reserve a place for you and your family to enjoy the lighted boat parade.  The proceeds of ticket sales go directly to help offset the costs of the parade, fireworks and facilities required to put on the lighted-boat-parade each year by the Sausalito on the Waterfront Foundation, a 502(c)(3) charity.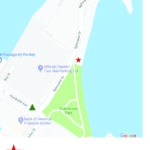 The lighted boat parade, fireworks and the entire 
Winterfest weekend is paid for by The Sausalito on the Waterfront Foundation 
with the support of other community organizations.